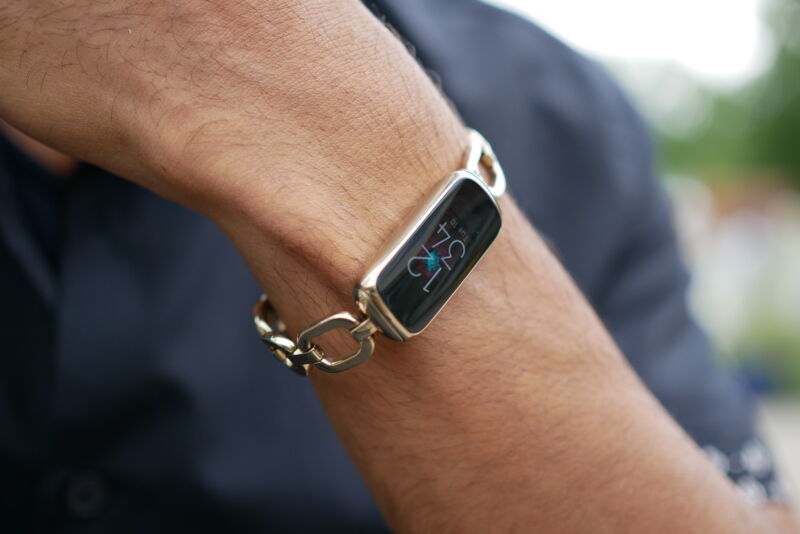 In the fitness wearables game, it's hard to give everyone what they want. That's why Garmin offers a seemingly endless lineup of watches, Apple currently sells no fewer than three Apple Watches, and Fitbit has a range of wearables, from kid-focused trackers to a smartwatch that the company hopes can one day detect early symptoms of COVID-19.
The Fitbit Luxe, which retails for $150, is the latter's latest style-focused fitness tracker. It tries to offer smartwatch luxury in a device that looks like a piece of jewelry. The Luxe is a cute tracker, but it has some questionable choices and oversights to watch out for, most of which are endemic to Fitbit devices.
If you're looking for an ultra-casual fitness tracker and a stylish smart device for your wrist, the Fitbit Luxe might be one of your best options. However, if you want to get active and stay active, you may want to look elsewhere.
It is without a doubt stylish
Appearance is the main draw of the Fitbit Luxe, and the special edition is particularly striking. It decently carries on as a piece of jewelry, thanks to its gold body attached to a stainless steel, gold-tone "Parker Link bracelet" made by California-based jewelry brand Gorjana. If you're working out, though, you'll want to swap it out for the included silicone band, as Fitbit notes that the Gorjana bracelet can discolor after prolonged contact with sweat.
This special edition will add $50 to the base price of the Luxe, or you can purchase the link bracelet separately for $100. Also, there are leather and stainless steel bands to choose from.
If style is important to you with these types of devices, consider these relatively expensive accessories. Otherwise, the $150 base price — a $50 increase over the less lavishly equipped but comparably functional Fitbit Inspire 2 — could be the sweet spot between style and cost. Not everyone wants an activity tracker that looks like a LIVESTRONG bracelet with a screen.
The Luxe's ​​vibrant, colorful OLED touchscreen is the other major aesthetic difference to the Inspire 2. Compared to the Inspire's black and white OLED, the Luxe's ​​display adds depth and vibrancy with its inky blacks and pops of color when the screen is turned off. on. This adds to the more luxurious look and feel of the Luxe. It's a small screen at less than an inch, but thankfully it doesn't feel too cramped for reading quick bits of information.
The Fitbit Luxe looks particularly stylish with the special edition Gorjana bracelet

Corey Gaskin

It's adjustable and fashionable, but costs an extra $50 over the base Luxe with a silicone strap.

Corey Gaskin

You should change the silicone band before workouts, as prolonged contact with sweat can discolor the jewelry.

Corey Gaskin

The OLED screen provides a beautiful color splendor.

Corey Gaskin

And it looks even more like a bracelet with the screen off.

Corey Gaskin

Even with the silicone strap, it maintains a versatile aesthetic.

Corey Gaskin

Corey Gaskin
User Interface and Performance
Where things get a little annoying is the UI of the Luxe. Fitbit has never been home to the most intuitive wearable user interfaces, but by combining the simplistic carousel-based user interface of typical fitness trackers with more general smartwatch functionalities, Fitbit has done a great job of keeping things usable. However, there are some shortcomings.
The first thing to notice is the de Luxe's ​​slow response to inputs. It's a full step behind every swipe or tap gesture you've made. Whether that's by design – perhaps to cope with your finger covering the entire screen while interacting with it – or not, it ultimately feels laggy and cheap. The slowness can cause you to enter more, even after you get used to the delay.
Smaller quirks, like the double-tap required to return to the home screen, take some getting used to. In that case you'll need to target the top of the screen to avoid erroneous inputs, but this works well once you get the hang of it.
The most frustrating mistakes have to do with training functionality. When you start the swim activity on the Luxe, the screen will automatically lock for further input until a combination of taps is reached, but there is no lock option for other activities. However, as a boxer, this is a position I would rely heavily on.
In fact, this surveillance makes the Luxe completely useless for kickboxing, an activity that is loaded on the tracker by default. Unless you're doing shadow kickboxing, ie not using a bag and gloves, this activity mode will constantly trigger input in your gloves, like mine. Nine out of 10 boxing sessions, De Luxe would mess up my tracking by pausing or canceling the activity altogether.
There's also no way to control your music from the Luxe, and there's no way to put an activity-tracking session in the background while you're doing something else. If you're in the middle of the session and want to check a text or set a timer, you'll need to end the activity completely to use another part of the Luxe UI.
The screen is not too small to be useful.

Corey Gaskin

And quick bits of information are easily accessible with a tap or scroll.

Corey Gaskin

You must receive a notification for an app before you can allow notifications for it on your Luxe. It is stupid.
As far as the handling of reports is concerned, the Luxe is usable. Since the screen is so small, you need a tap and a few scrolls to read even short messages, but it gets the job done with little fuss. Funnily enough, though, you have to enable notifications for each app one at a time in the Fitbit app settings. And you can only add app to notification whitelist after you have set up the Luxe and have received at least one notification from the relevant app.
This means that if you haven't received a notification from an app since you set up your Luxe, getting the notifications on your Luxe isn't even an option. That's why you should regularly visit the Fitbit app and check which notifications you can whitelist as more apps eventually send you an alert. It's totally insane and borderline punitive.
Still, the Luxe is technically an activity tracker, not a full-featured smartwatch. So, if you like Fitbit's approach to fitness but want features like music controls and a more spacious and slightly smoother user interface, a Fitbit Sense or Versa might be more up your alley. However, these will also force you to undergo the malicious notification setup process among other issues mentioned above.