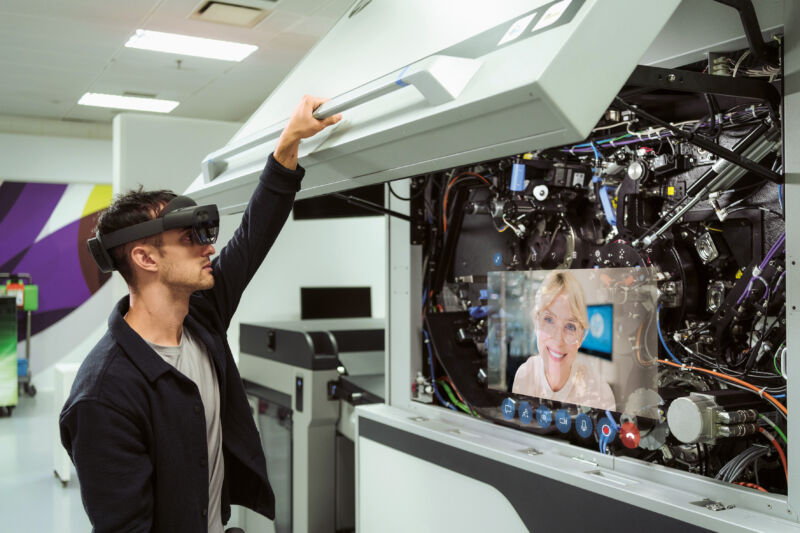 Whether a printer is out of ink or paper is jammed, troubleshooting the printer can be tricky. With the "metaverse" just a head-mounted display away, printer repair can be easier. At least that's what HP claims with xRServices, a printer repair and support feature that uses Microsoft HoloLens 2 mixed-reality headsets.
Companies that own a HoloLens 2 and purchase HP's xRServices can directly contact an HP technician and ask about printer problems during "any point of their print production," HP's announcement Monday.
The service is aimed at businesses using HP's industrial printer line, the massive devices found in everything from standard offices to large warehouses. They can do things your home printer can't, like 6,000 sheets per hour.
Faster service?
HP claims that by bringing printer troubleshooting into mixed reality, businesses will spend less time trying to figure out why their printers aren't working. The company hasn't made it clear why putting a 1.2-pound piece of hardware on your head and entering mixed reality produces faster results than making a phone or video call.
Because xRServices provides a "single point of contact" for HP printers, HP pointed to the virtual service that eliminates the need to travel for in-person meetings, including for onboarding, which can be done through what HP called "a 'live' simulation. " Presumably, the HoloLens 2's 1080p video camera will allow a technician to look at the actual printer, but again, this can be handled by a simple video call. In addition, xRServices just adds another person you can nag when things don't work out.
xRServices is currently in beta with "select" HP customers, including Benson Integrated Marketing Solutions and Japan's Fujiplus Inc, a company whose services include calendar creation and large ad printing. In a statement, Fujiplus CEO and President Takeshi Ido said the company uses xRServices for "self-maintenance and part replacement, which gives us great confidence in the predictability of our printing operations."
The announcement of xRServices comes shortly after the unveiling of a new Microsoft-related virtual-world push. Last week, Microsoft announced plans to release a 3D virtual meeting platform called Mesh for Teams.